Automobile Engine Repair in Charlotte, NC
Buying a new engine for your late-model vehicle can be expensive, so consider having an automobile engine repair done by the team at Almar Auto. Our company in Charlotte, NC, has experienced technicians who have undergone extensive training on all types of engines. It doesn't matter how much horsepower or how many cylinders your car or truck has because we can complete any repair with precision. We'll treat you with the respect and dignity you deserve at all times.
You'll be impressed with our affordable labor and prompt service. We'll discuss all of the details with you and answer all of your questions with integrity and honesty. You'll be happy with the sound and power of your improved engine.
Our clients are scattered throughout Greater Charlotte, so give us the chance to earn your business. We work flexible hours and accept cash and personal checks as methods of payment. Call Almar Auto to schedule an appointment for your next automobile engine repair.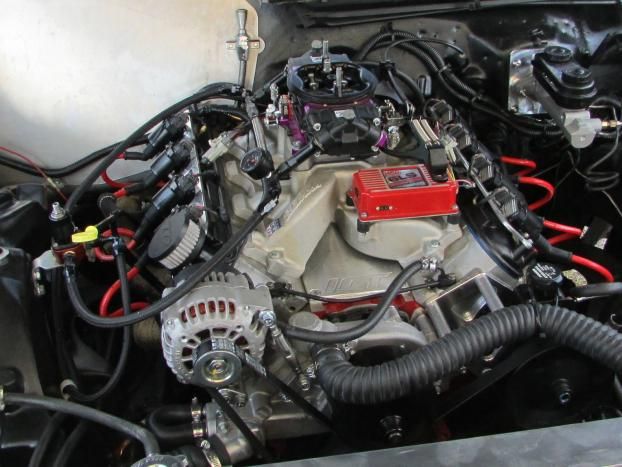 New pistons being placed in a small block Chevrolet as part of a complete performance rebuild.
Took my truck here for vacuum leak..3 trips....spent almost 5k and still have the vacuum leak.... and rebuilt transmission that works....ok...not great but ok....Is there ANY mechanics to be trusted??? Please let me know...Please. I will never go back...Take your vehicle somewhere else!

- Jeff Whitesides. 5/25/2020

Rusty and his team at Almar Auto are the best in town. We have been working with them for over a year and we are very happy with the work they have done for us. They are SPEEDY, HONEST, & most importantly DEPENDABLE! We no longer take our vehicles to the dealership to get repaired....We go the Almar instead. Please check them out!

- Tom Lane-Brady. 4/19/2020

I spoke with the owner Rusty and I told him my problem with my back brake tail lights were coming on, but I wasn't hitting the brake pedal at the time they were on. He listened and told me to bring my car in, they quickly got my car in and found the issue and gave me an estimate total. So I gave them permission to do the repairs. I am very satisfied with the service that was provided. I very much recommend Almar Auto Repair for your automotive repairs; and I will be returning for any future repairs that I may have. GG

- picture perfect. 3/18/2020

I could not be any happier with the service I got from this place. I had a timing chain issue which is a very expensive repair on my car. Not because of the parts but because you have to practically take half the car apart to get to it. Mike was upfront with me about everything including letting me know that I could probably drive my car for another year in its condition but I would not pass emissions and it would have to eventually be repaired. I was told the repair would take about two days and guess what? It was done in two days. Actually a few hours before. When I picked it up I noticed a squeaking that was not there before. He suspected a little fluid got onto the timing belt but if it was still squeaking after a week, I could bring it back and they'd take care of it. It continued to to squeak and so I brought it back a few weeks later. True to their word the replaced the fan belt, which was the source of the noise, at no charge and even threw in an oil change. My car is humming along like the day I bought it now. I hope I don't have anything else but routine maintenance from here until I'm ready to get a newer vehicle. But, I won't hesitate to give these guys a call and turn over my car to them for any future maintenance.

Mike, Rusty and team always do an amazing job. They are always very transparent with any additional repairs that need to be done. I always receive a call if they encounter additional items needing repair unlike other mechanics I've been to. There's also no pressure and there's no trying to up sell you on services! Thanks as always for a great job

I was recommended to go to ALMAR when I finally just had it with NTB's poor service. NTB put on a new set of tires, which they could not seem to balance after three attempts and overlooked telling me I needed new rotors. Rusty and the guys helped me document and correct the issue which Helped my case for a small refund from NTB (for the labor I was charged). I'll be recommending and going to almar from now on

- Patrick Barham. 10/8/2019

Rusty Berger And Mike did the work on my Toyota Camry le 2003 head gasket leak with coolant dripping from the engine. They did the repairs for about $2989 took around 12 days but they have done a very professional job. My car runs like new . Silent engine smooth running and yet has the power for a car having 138000 miles on it. I recommend this repair shop as they do a very honest professional job and guarantee the work done which even the Toyota dealer service centers don't give. Over all great experience with race car builders. Thanks Rusty ,Mike on a job well done saved me from totaling my car.

- Milind Desai. 9/10/2019

I went looking for a mechanic for my 2000 VW New Beetle on the web and read about many shops in Charlotte. The one who caught my eye was the one who described themselves as "LGBTQ Friendly." I was amazed and impressed that a shop would put that in their description. I had been quoted an enormous amount to fix my car so I went to Almar for an estimate. Rusty, the owner, was a very pleasant and honest gentleman. As were everyone I came in contact there. They fixed my car for a reasonable price and I have returned many times since. This is a kind and nonbiased shop and they are friendly to all who come through their doors. I'm really glad I was one of them!!

As I mentioned to Rusty on the phone this morning, I am cheap. I hate paying $$$$ for things like car repairs. However, this week I brought my 2006 Toyota Highlander in for a pre-road trip check. Among the problems was a hum in the rear of the vehicle. I had to replace the wheel bearings. which wasn't cheap, but it was the best value for money. My car drives like a dream. I can honestly say that I'm grateful to have my car back in tip top shape.

I've lived in Charlotte for 5 years and I have come to Almar Auto every time I need anything done to my car. They are trustworthy and candid and will always give you good advice on what course of action to take. I really appreciate the work they do, Rusty, Mike, and everyone else who works there.

My son recently moved to Charlotte and had driven my 2006 Jeep Grand Cherokee there from Omaha, Nebraska. My son called and said it was making a vibrating sound/noise, so I needed to find a reputable service shop to work on it. I searched the web for reputable shops in Charlotte and Almar Auto Repair came up. I had my son take it in to be evaluated and diagnosed. Mike told him what they found to be the problem and quoted him a price (of course my son didn't have the money). So I contacted Mike and discussed the findings, and I believed they were probably correct in the diagnosis of it. I am not a certified mechanic, but I have done a lot of work on cars, and with YouTube you can also find lots of information, so I felt pretty good about their diagnosis. Remember, I am 17-18 hours away in Nebraska, so to feel like I could trust them to fix my Jeep, honestly and at a fair price, was extremely comforting and important. I talked with Mike on the phone, paid with a credit card over the phone, and had my son pick it up. It has been 3 weeks and the old Jeep is running great again, 160,000 plus miles on it. I would highly recommend Almar, even though I wasn't at the shop, I feel like I know them personally, that's how good they were! Thanks Mike and everyone that works at Almar!

- Albert Stusse. 4/17/2019

I have been going to the shop since 2016 when I lived near S blvd, and still go there for ALL my car needs even after moving away. I entrust them with the care for my car from the basic oil change, to brake pads/rotors and much more. They do an excellent job while saving you the most money. As a female, it is a constant struggle to find a great mechanic that has the best intent and is not just there to take your money. I am happy I was able to find this place early on. I have recommended it to my other friends as well. Overall, it is a small shop that does great work.

WOW!!!!!! They absolutely, don't make people, let alone mechanic shops like this anymore. Rusty and his team, are a rare find!!! I am a mother with two little twins that will be turning two soon. My husband works out of state, so it is imperative that I have a reliable and safe truck. I have a 2012 Chevy Traverse that has had an extremely elusive issue with the fuel system. While driving, my check engine light would begin flashing and smoke would come from the rear of the car. The car would stall and would not drive at all. I brought my truck to Rusty's shop a few months back and they read the code and fixed the reported issue. However, shortly afterwards my truck broke down on a Friday night, just after the shop closed! I was 20+ miles away from home with my little ones in my back seat. I called the shop, and Rusty answered even though it was closed. He had my truck towed to his shop at no charge to me. On Monday, I was told that I would need to purchase all new fuel injectors, which would have ran me over $1,000 . After I had already paid several hundred to fix what we thought the issue was. I was in a panic because, I needed transportation for myself and the babies but had already spent the money that I'd had to address the issue originally. I chose to get a rental car until I could figure out my next steps. I was absolutely floored when Rusty called me to say that after considering my situation, he would cover the full cost of fixing my car so that the issue that was causing my check engine light to flash and then immediately stall would be resolved. When I say, Rusty has lived up to his word!!! He has invested tons of time and money in parts and labor. AT ZERO COST TO ME!!! His wife was kind enough to take me to work, and is a very lovely woman. Given the fact that I have had to come back and forth to the shop because, the check engine light had popped back on (I did say the problem has been elusive). Rusty even paid for my second rental car!!! He personally drove my car home to make sure that the check engine light stayed off. The warmth and concern that they have shown to me, as a team, has been unparalleled. My coworkers have driven me back and forth to his shop as my car issue was being worked. They have heard me taking about how much of a blessing that Rusty and his team have been to me! I will tell EVERYONE that will listen, that if you value doing business with people that are genuinely, great people? Family oriented people, that do an honest days work? PLEASE, PLEASE, PLEASE, don't take your business anywhere else. This is a family owned business, that stands by their WORD and their WORK! I thank GOD for Rusty and his team. GOD will bless them for what they have done for me!!!

- Chanell Smith. 2/1/2019

This is my second time going to ALMAR and I'm never looking back. This is the place to go to in Charlotte to get ANYTHING on your vehicle fixed. The first time, I needed my shocks replaced and other places wanted to charge me over 2k and keep my car for a week.... Rusty fixed my car in a few hours and it only cost around 700. They also gave me some tips on how to better maintain my car and what might need to get done in the future + options. Today I dropped my car off because the heat wasn't working and Mike diagnosed and fixed my car in less than 3 hours and it was the cheapest price out of all the places I looked at as well. 11/10 recommend. Mike and Rusty are so nice, truly helpful and you can tell that they genuinely enjoy what they do and want to help you (not scam you). Don't bother with anywhere else, this is where it's at for reliable, affordable and quality car work!

- Delphie Williams. 0/18/2019

I was not prepared for the level of customer service at Almar. From the comfortable, family-friendly waiting area to the repairs on our car, everything Almar does makes the customer a top priority. We were passing through Charlotte on a road trip when an emergency repair really threw us off track. The team at Almar made it a priority to get the parts we needed and get our car back on the road as quickly as possible. Even though we came in late in the day, the Almar team made it their highest priority to get the work done so we didn't have to find a hotel. They even invited our two dogs to come hang out in the back of the waiting area so we weren't standing outside in the cold for the few hours it took to get the repairs made. Wish there was an option to give a 10-star rating!

- J. Catambay. 11/27/2018

I travel in from out of town to Charlotte several days a week. I had a terrible noise coming from the rear end of my automobile as I pulled off the interstate. Called ALMAR frantically and they fit me in right away, determined that the problem was something that could be fixed simply (although it was also something that could have killed me driving at highway speeds) and didn't even charge me the labor!!! While I wouldn't expect THAT sweet a deal regularly I will concur with other reviewers that their prices are certain fair and I would trust them to charge me only for what I need. I've never had that kind of courtesy and care out of any other repair shop.

I drive a '98 Lincoln Mark VIII and one of the headlights on it blew out. The car, albeit old and rather outdated, holds a special place in my heart as it was a hand-me-down from a family member who passed a few years ago. I called every Ford/Lincoln dealership within a 50 mile radius but no one would help me find a replacement light or other solution. I called Lincoln only to find out that the high density lights were no longer in production and likely unavailable – my only option would be hoping a junkyard had the car with a functioning headlight. I called obsolete parts manufacturers and (very unfriendly) vintage part dealers with no success. Finally, I called Mike at ALMAR and explained my situation. He offered to take a look at the car and see what they could do. Finally, someone who cared! Turns out, there are after-market lights that can be installed in my car so that not only will I have a working headlight, if the light ever goes out again, I'll be able to replace it without searching half the country. The lights have been ordered and the team will install them when they come in. I cannot thank Mike and the team at ALMAR enough for helping find an affordable solution for my car. I'm looking forward to having the new lights installed and working with ALMAR for many years to come. I would highly recommend ALMAR to anyone needing work done on their car, especially if every other option has left you completely hopeless. The team is knowledgeable, informed, resourceful, fair and friendly. If only it was an option, I would give them 10 stars!

- Melissa Holko. 8/25/2018

Mike and his team are outstanding! My Honda's AC compressor needed replacement and they got it done within a few hours of calling, for significantly less than it would normally cost for a Honda. Also, the new compressor included a two year warranty! Very friendly, professional, knowledgeable and quick! Now my go-to repair shop when I'm in Charlotte! I highly recommend them!!! Thank you!!!

- matthew d'angelo. 7/30/2018

The first time I went to ALMAR Auto Repair it was after being quoted outrageous prices for a fairly simple headlight fix. Rusty spent the time to find the part as cheap as possible and said that they would be done by the end of the day. They were actually done by lunchtime AND managed to save me an additional $10 in the process. As a woman who knows basically nothing about cars it was nice to find a place where it did not feel that I was being left in the dark or taken advantage of. When I needed a new steering rack I didn't consider anywhere else. They worked with me on the cost and were able to finish the work in a few short hours. Rusty and Mike were very welcoming to me and even offered to turn on Netflix while I waited. I could not recommend this place enough to anyone looking for quality service from trustworthy people.

- Sonya Robinson. 6/27/2018